The Gratrix Surname
I must begin by thanking the late Norm Ashton and David T Greatorex who have given me help from time to time. I now give two accounts of the origin of the name Gratrix, and the more common spelling Greatorex:
The Gretraches-Derbyshire Theory
This version is based on the premise that the root name was Gretraches or Greatrakes, and all of the others, such as Gratrix and Greatorex, are variants of this name. This theory holds that the surname has a placename origin, first recorded in the Derbyshire Archives in the year 1251 as GRET (E) RACHES, a small farming settlement founded sometime in the late 11th century or early 12th. The settlement is situated between Buxton and Tideswell and is now known as Great Rocks Dale. In modern times Great Rocks has been a small hamlet consisting of just a handful of farms, and was even smaller still in the medieval period.
As this area was formerly part of the Danelaw, the people would be mainly of Scandinavian origin. It is contended that the name is a blend of 'Great' and 'raches' or 'rakes', which meant a vertical view of lead ore. As it happens the name Greatrakes appears often in the Midland mining areas. It is also the name of the large feudal estate that grew out of GRET (E) RACHES and was mentioned in the Derbyshire Charters in 1364.
The Flemish-Lancashire Theory
Apparently in the 14th century several families of Protestant Flemish textile workers were encouraged to settle in Lancashire in order to add a measure of continental skill to the newly expanding textile industry, as well as to provide them with some security from the persecution of Spanish Roman Catholics. One result of this move is the presence of many similar names, such as Gratrix, Greatorex, Greatricks, etc., all having their origins in this 14th century migration.
Surname Distribution Maps
The distribution of postal areas where the surnames Gratrix and Greatorex were most prevalent in 1881 are shown below. The surname Gratrix is mostly around Lancashire, and the surname Greatorex is mostly around Derbyshire and London.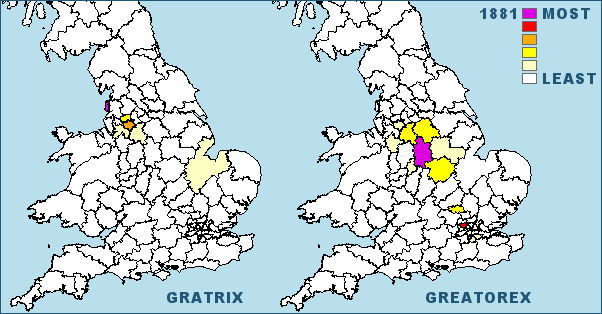 Since I have not researched this topic, and am only reporting what I have been told, I can not say which of the two theories is the most likely, nor how the Lancashire and Derbyshire distributions came about. The general consensus is that the The Gretraches-Derbyshire Theory is more plausible, well, more researched anyway!